Hi everybody. It used to be easy to share Muvizu assets back in the day but, with the demise of Digimania and the continued wonkiness of the Muvizu.com website under Meshmellow, we have to rely on other means. I am going to make a website for all my stuff eventually, but in the meantime here are all the links to all my Muvizu content (that is currently on my OneDrive account) dumped into one place. Some are mine, some are not - please take note (for the sake of credits or what have you). I will add other bits to the Dumpster over time. The images open up bigger images, the 1drv.ms links are the actual files (zipped).
If any of the models have trouble with textures, you have to either copy the textures into the same folder as the model file and load the file again, or manually assign the correct texture in Muvizu once the object is loaded.
NONE OF THESE ASSETS ARE FOR SALE.
PROPS
BJ Ninja - AK47
https://1drv.ms/u/s!ALlUfF5OI9dJgTU
A textured Sketchup model (originally made by BJ Ninja) made to work with a standard Muvizu character by myself. It is a low collision ASE model and works double or single sided, which is important when attaching models to characters.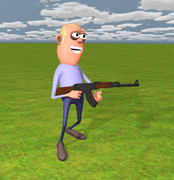 Dylly - Bed Topper
https://1drv.ms/u/s!ALlUfF5OI9dJgVU
Neat prop by Dylly that you put on top of a standard bed prop to make it look like the character is under the covers. In ASE format with textures.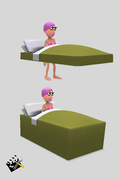 Ziggy72 - Binocs
https://1drv.ms/u/s!ALlUfF5OI9dJgVE
Standard Binoculars scaled to fit Muvizu characters (as attachment). In FBX format with textures - please read the notes before use.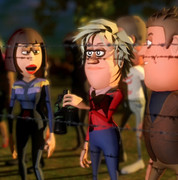 Ziggy72 - Hands Holding Mobile Phone
https://1drv.ms/u/s!ALlUfF5OI9dJgTM
3 models to pose or edit - an open left hand, a pointing right hand, and a mobile phone. All made with easy to change textures (check the Source folder) and available in FBX and OBJ formats.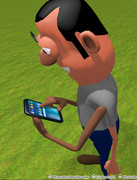 Ziggy72 - Teddy Bear
https://1drv.ms/u/s!ALlUfF5OI9dJgU8
Just a quick prop I made based on a sketchup model shape. FBX format with textures.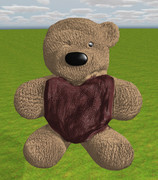 Teddy Bear Burned
https://1drv.ms/u/s!ALlUfF5OI9dJgVs
A variant of Teddy but with fire damage.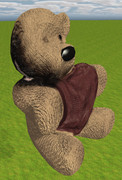 Ziggy72 - Bike Helmet for Muvizu
https://1drv.ms/u/s!ALlUfF5OI9dJgU0
A bike helmet I made for someone. Comes in a normal and 'small' size to fit Beefy, since he has biker style clothes. In FBX format with textures, with and without visor. If Muvizu can't see the textures, move them into the same folder as the FBX file and try again.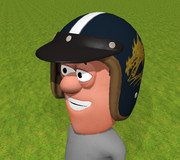 Ziggy72 - Handcuffs
Pair :
https://1drv.ms/u/s!ALlUfF5OI9dJgVc
Single :
https://1drv.ms/u/s!ALlUfF5OI9dJgVg
Old looking handcuffs intended to be attached to the character's tail attachment point or wrist, whichever is easier, when in the Law > Handcuffed Loop action. Tough to align, but they look good. You can get the 'clean' texture here :
http://anizu.uk/?page=viewasset&assetid=27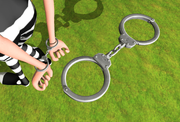 Ziggy72 - Hands for Man
https://1drv.ms/u/s!ALlUfF5OI9dJgS0
A test set of FBX hand models in common poses (some are also in OBJ format, for some reason). All are based on the standard Muvizu Man character and scaled appropriately. They are textured a standard colour which you then alter (in Photoshop or whatever) to match your character's costume and skin colour. Base textures and UV maps (PSDs) are supplied in the Source folders.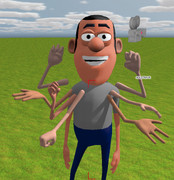 Ziggy72 - Terrain Block 01
https://1drv.ms/u/s!ALlUfF5OI9dJgnI
A quick way to lay an uneven, natural looking ground layer by copy/pasting this FBX section (which is scaled as big as you can go in Muvizu). Please note that each block is low collision, so characters can't stand on them. The way I used them was to cover most of it, especially the seams, with ferns, trees and grass, then made walkways with non visible ground planes to create something for the characters to interact with.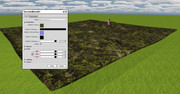 Ziggy72 - Glass Panes

https://1drv.ms/u/s!ALlUfF5OI9dJgVY
Easy to use, low collision panes of glass in ASE format. See the 'usage' image for the notes.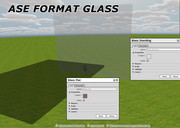 Digimania - Filling Station
https://1drv.ms/u/s!ALlUfF5OI9dJgUg
A set of Filling Station props in ASE format - Billboard, Diner, Forecourt, Gas Pump and Sign. The Billboard has issues, as in not being able to select it, so don't try to use that. You have to manually assign the TGA to the texture slots for the Diner and Gas Pump, and even then they are shaded but not fully textured. You can colour the TGAs yourself of course, but it looks like Digimania never got round to actually finishing this set.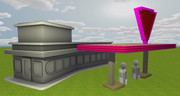 Digimania - Industrial
https://1drv.ms/u/s!ALlUfF5OI9dJgUk
A set of rather cool grimy Industrial themed props. Includes a Conveyor Belt, Metal Stairs, Pipes, etc. All in ASE format, and these do all work 100%

COSTUMES
Digimania - Extracted Costumes
https://1drv.ms/u/s!ALlUfF5OI9dJgTc
These are the raw TGA files for the standard Costumes for Man, Woman, Boy, Dog, Fat Man/Woman and Girl extracted from Muvizu (using Umodel) so that we can edit the clothes. The icons (used in Muvizu to show them) are also included so you can identify them easier. Note that originally the Man and Woman characters were called Blob and Blobette, so they are still called that internally. I think the actual Blob is called Beastie internally.

Ziggy72 - Body UV Templates
https://1drv.ms/u/s!ALlUfF5OI9dJgUM
My own version of most of the UV templates for the base characters made into PSDs for my own convenience. There are handy layers for things like the belly button, toenails, fingernails, etc. There are also Brow layers that you can use to create custom skins to allow you to animate the character's face better (see the "UV Maps with Brows" download for instructions on how you do that).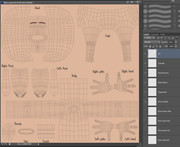 Ziggy72 - UV Maps with Brows
https://1drv.ms/u/s!ALlUfF5OI9dJgR0
UVs I made to animate the brows of characters by switching skin layers. See notes.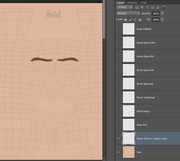 NEW

Ziggy72 - Sammamish Costume Pack
https://1drv.ms/u/s!ALlUfF5OI9dJgnE
Over 30 costumes for many character types made for my movie Sammamish.
For Boy Character:
Corvetti Jeans
Pyjamas
Suit Variations PSD
Tan Suit
For Fat Man Character:
Florida Highway Patrol top
Prison Guard top
Suit Variations
For Fat Woman Character:
Jumper & Jeans
Striped Bikini
For Girl Character:
80's Jacket & Jeans
Bikini Black
Bikini Floral
Bikini Striped
Cutoff Denims & Bikini Top
One Piece top
Suited
White Vest & Jeans
For Hero (non standard) Characters:
Pinstripes for Beefy Casual Suit
Bikinis for Heroine Base
Blue Bikini for Mandy Base
For the Man Character:
Boiler Suit
Bowie Tshirt & Jeans
Highway Patrol top
Jacket & Jeans 1974
Outdoor Vest
Prisoner Blues
Prison Guard top
Shirt top
Tennis Outfit
Zig Suit PSD
For the Woman Character:
Woolly Jumper & Jeans
Woolly Diamond Jumper & Jeans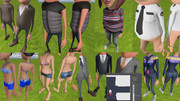 SETS
Ziggy72 - Klorc Sets MOS 3
https://1drv.ms/u/s!ALlUfF5OI9dJgVo
3 sets from my film Mysteries Of Science #3, where a race of nasty aliens blow up the Earth.
- Klorc Earth Invasion
- Klorc Ship Bridge & Crew
- Ruined Earth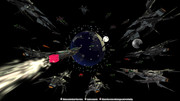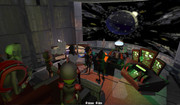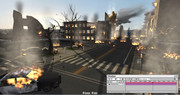 Ziggy72 - Audience Theatre
https://1drv.ms/u/s!ALlUfF5OI9dJgVw
An audience of 134 people in a theatre. Yes, it kills the Timeline - the lag is a nightmare. Have fun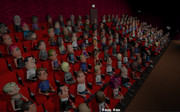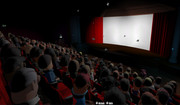 72 Sets Archive
https://1drv.ms/u/s!ALlUfF5OI9dJgVI
I made a back up of sets I liked as Muvizu developed, and it's a shame that it's so hard to find them. So, I put them all into one archive (along with a lot of my own) for others to enjoy. The file is 1.27Gb, so might take a while to download.
The archive is split into 7 sections, and they include :
Ziggy72 - Exterior Sets
11 exteriors from my movies.
- Back Alley
- Countryside
- Desert Island
- Western Desert
- Moonscape
- Muvopolis
- Street Day
- Street Day WIP
- Street Night HBJ
- Street Night KFI
- WW2 Airfield
Ziggy72 - House & Home
9 domestic sets from my movies.
- Bedroom Night
- Dark Mansion
- Flat Day
- Flat Day Boston
- Flat Night Boston
- Hotel Room Boston
- Living Room
- Living Room Texas Night
- Living Room TB
Ziggy72 - Interiors
19 interior sets from my movies.
- Alien Ship Interior
- Bar Cheers Style
- Burroughs
- Church USA
- Club
- Club Stage
- Cruise Ship Cabin Day
- Cruise Ship Cabin Night
- Cruise Ship Corridor
- Nissen Hut
- Open Office Night (based on Wabby)
- Recording Studio
- Restaurant
- Schoolroom (old Muvizu)
- Schoolroom (Play+)
- Schoolroom Art Class
- Ship's Boiler Room
- Ship's Operating Room
- Stage Pink Droid (the legends!)
JonBez
5 from JB, an early star and inspirational Muvizuer.
- Agent Snuff Jungle
- Desert
- Jeremy Kyle
- The Bridge Of Death
- The Young Ones
Matt
5 from Matt, who made "The Book", the movie that made me determined to learn how to do VFX.
- Dining Room Christmas Dinner
- Front Room on Christmas Day
- Jesus in The Temple (marketplace)
- Town Centre
- Winter Moon
Rebel
10 complex sets from the master of grouping things.
- Art Museum
- Chinatown
- Church Norman Style
- Cinema
- Colosseum
- Garage Texaco
- Law Courts
- Military Tank Compound
- Pirate Tall Ship
- School Exterior
Various
13 other sets from Muvizu icons :
Bedroom by
Emily
Burger Box by
Dreeko
Concert Stage by
Mysto
Construction Site by
Mysto
Muvizu Shore Test by
Rodrigues Silva
Nando's At Night by
Emily
Open Office by
Wabby
Pirate Ship by
Emily
Prison Cell by
Dreeko
Skyline Bits And Bobs by
Drewi
Throne Room Cathedral by
MikeNum5
Tool Shed by
Fazz68
War Room by
DannyNW23
.
If anyone, who's name is mentioned here, does not want their sets posted in this way then please let me know and I will remove them from the archive.
Tip - before loading a large or complex set, turn OFF the lighting and close any camera windows to help it load faster.
Please remember that these sets go way back, and the lighting was very different back then and you will have to tweak things. Also, some of the sets are very large and complex - check the file size of the .set file before you load it. Sets over 25mb tend to need a gaming PC. For example Muvopolis, a city set I made, is 46mb and will give your system a good workout
Nice set actually, be good to see it get used. The idea is that it's a basic city layout/backdrop/set all in one depending on how you want to shoot it, and from where. You can just replace/add in buildings, or resize things, to get the look you want. As long as your PC can take it.
(And yes, there is a girl apparently contemplating suicide from the top of one of the buildings in the Muvopolis set - it was a setup for a shot from the last movie I made with it and I forgot to remove her before uploading. Don't be alarmed - she got help).